The Army Painter
The Army Painter manufactures very nice paint in Italy and is less expensive than Citadel.
Army Painter colors match most Citadel paints or very close. They have a nice consistancy, deep pigment and the twist-off nozzle with dropper is a nice feature.
Below is a conversion chart. If you are matching existing colors be sure to test them to make sure they are close enough.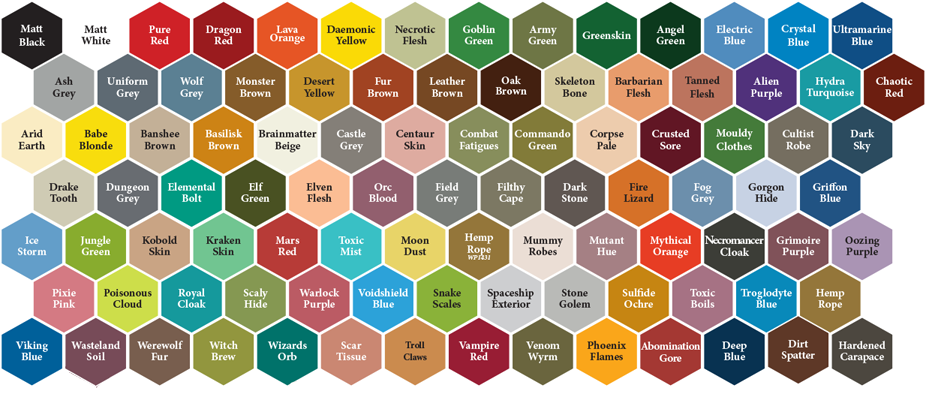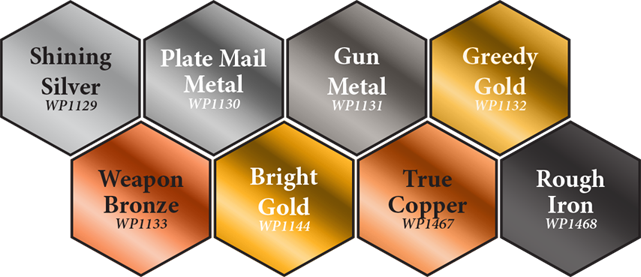 ACRYLICS WARPAINTS
SAMPLE
ARMY PAINTER
CITADEL
OLD CITADEL
Matt Black
Abaddon Black
Chaos Black
Matt White
White Scar / Ceramite
Skull White
Pure Red
Evil Sunz Scarlet
Blood Red
Dragon Red
Wasdakka Red
Red Gore
Lava Orange
Troll Slayer Orange
Blazing Orange
Daemonic Yellow
Flash Gitz Yellow
Sunburst Yellow
Necrotic Flesh
Kreig Khaki(1)
Scaly Hide
Kreig Khaki (2)
Goblin Green
Warboss Green
Goblin Green
Army Green (1)
Loren Forest
Knarloc Green
Army Green (2)
Straken Green
Greenskin
Warpstone Glow
Snot Green
Angel Green (1)
Caliban Green
Dark Angels Green
Angel Green (2)
Caliban Green
Orkhide Shade
Electric Blue
Calgar Blue
Crystal Blue
Teclis Blue
Ultramarine Blue
Altdorf Guard Blue
Ultramarines Blue
Ash Grey (1)
Administratum Grey
Fortress Grey
Ash Grey (2)
Celestra Grey
Astronomican Grey
Dungeon Grey
Dawnstone (1)
Codex Grey (1)
Uniform Grey
Dawnstone (2)
Codex Grey (2)
Wolf Grey (1)
Russ Grey
Wolf Grey (2)
The Fang
Shadow Grey
Wolf Grey (3)
The Fang
Fenris Grey
Monster Brown
Baneblade Brown (1)
Kehmri Brown
Cultist Robe
Baneblade Brown (2)
Kehmri Brown
Desert Yellow (1)
Tallarn Sand
Desert Yellow
Desert Yellow (2)
Zandri Dust
Fur Brown
Skrag Brown
Vermin Brown
Leather Brown
Steel Legion Drab
Graveyard Earth
Oak Brown
Dryard Bark
Skeleton Bone
Ushabti Bone
Bleached Bone
Barbarian Flesh
Bestigor Flesh
Tanned Flesh
Ratskin Flesh
Dwarf Flesh
Alien Purple
Xereus Purple
Liche Purple
Hydra Turquoise (1)
Thousand Sons Blue
Hydra Turquoise (2)
Sotek Green
Hawk Turquoise
Chaotic Red
Khorne Red (1)
Scab Red
Abomination Gore
Khorne Red (2)
Scab Red
Crusted Sore
Khorne Red (3)
Scab Red
Babe Blonde
Dorn Yellow (1)
Moon Dust
Hexos Palesun / Dorn Yellow (2)
Arid Earth
Dorn Yellow (3)
Banshee Brown
Rakarth Flesh
Dheneb Stone
Sulfide Ochre
Zamesi Desert (1)
Bubonic Brown
Basilisk Brown
Zamesi Desert (2)
Bubonic Brown
Drake Tooth
Screaming Skull (1)
Brainmatter Beige
Screaming Skull (2)
Castle_grey
Stormvermin Fur (1)
Charadon Granite
Filthy Cape
Stormvermin Fur (2)
Charadon Granite
Centaur Skin
Fulgrim Pink
Combat Fatigues
Nurgling Green
Rotting Flesh
Commando Green
Elysian Green
Camo Green
Corpse Pale
Flayed One Flesh
Moldy Clothes
Skarsnik Green
Deep Blue
Kantor Blue (1)
Regal Blue
Necron Abyss
Dark Sky
Kantor Blue (2)
Regal Blue
Necron Abyss
Elemental Bolt
Sybarite Green
Elf Green
Deathworld Forest
Gretchin Green
Elven Flesh
Kislev Flesh / Ungor Flesh
Elf Flesh
Orc Blood
Field Grey
Warpfield Grey
Dark Stone
Mechanicus Standard Grey
Adeptus Battlegrey
Fire Lizard
Jokaero Orange
Macharius Solor Orange
Fog Grey
Frenrisian Grey
Space Wolves Grey
Spaceship Exterior
Ulthuan Grey (1)
Gorgon Hide
Ulthuan Grey (2)
Griffon Blue
Macragge Blue
Mordian Blue
Ice Storm
Blue Horror
Jungle Green
Niblet Green
Kobold Skin (1)
Cadian Fleshtone
Tallarn Flesh
Kobold Skin (2)
Karak Stone
Kommando Khaki
Kraken Skin
Gauss Blaster Green
Mars Red
Wildrider Red
Toxic Mist
Temple Guard Blue
Hemp Rope
Balor Brown
Snakebite Leather
Tausept Ochre
Stone Golem
Pallid Wych Flesh (1)
Mummy Robes
Pallid Wych Flesh (2)
Mutant Hue
Mythical Orange
Fire Dragon Bright
Necromancer Cloak
Eshin Grey
Grimoire Purple
Deamonette Hide
Warpfield Grey
Hormagaunt Purple
Oozing Purple
Genestealer Purple
Pixie Pink
Emperor's Children
Poisonous Cloud
Royal Cloak
Baharroth Blue
Warlock Purple
Pink Horror
Voidshield Blue
Hoeth Blue
Snake Scales
Moot Green
Scorpion Green
Toxic Boils
Slaanesh Grey
Troglodyte Blue
Ice Blue
Viking Blue
Caledor Sky
Enchanted Blue
Wasteland Soil
Screamer Pink
Warlock Purple
Werewolf Fur
Gorthor Brown
Witch Brew
Ogryn Camo
Wizards Orb
Kabalite Green
Scar Tissue
Bugman's Glow
Troll Claws
Tau Light Ochre
Vomit Brown
Vampire Red
Mephiston Red
Mechrite Red
Venom Wyrm
Death Guard Green
Phoenix Flame (1)
Yriel Yellow
Golden Yellow
Phoenix Flame (2)
Averland Sunset
Iyanden Darksun
Dirt Spatter (1)
Mournfang Brown
Bestial Brown
Calthan Brown
Dirt Spatter (2)
Rhinox Hide
Scorched Brown
Hardened Carapace
Skavenblight Dinge
METALLICS WARPAINTS
Shining Silver
Runefang Steel
Stormhost Silver
Mithril Silver
Plate Mail Metal
Ironbreaker
Chainmail
Gun Metal
Leadbelcher
Boltgun Metal
Greedy Gold
Gehenna's Gold
Shining Gold
Weapon Bronze
Brass Scorpion
Bright Gold
Auric Armour Gold
Burnished Gold
True Copper
Balthazar Gold
Rough Iron
Warplock Bronze
Tin Bitz
WASHES WARPAINTS
Soft Tone
Seraphim / Agrax
Strong Tone
Agrax Earthshade
Devlan Mud
Dark Tone
Nuln Oil
Badab Black
Green Tone
Biel-Tan Green
Thraka Green
Red Tone
Carroburg Crimson
Baal Red
Blue Tone
Drakenhof Nightshade
Asurmen Blue
Purple Tone
Drushii Violet
Leviathan Purple
Flesh Wash
Reikland Fleshshade
Ogryn Flesh
Mild Brown
Agrax / Reikland
Light Tone
Seraphim Sepia
Gryponne Sepia
Military Shader
Athonian Camoshade